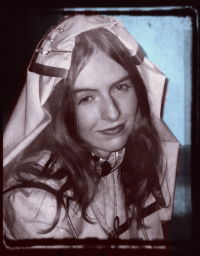 Name: [Not Disclosed]

Professional/Stage Name: Deborah ******

Nickname: Axel Alloy

Age: [Not Disclosed]

Occupation: Professional Artist/Writer/Designer/Voice Actress

Occupation Dates: Jan 1988 - Jan 2009

Occupation Roles:
Art

Concept Art
Black & White Illustrations
Full Colour Illustrations
Backgrounds (Digital & Traditionally painted)
Cell Art
Storyboards
Official Graphic Novel Illustrations
Design
Character
Costume
Fashion
Landscape and Environment
Animals and Creatures
Website
Animation Concepts
Games

Vehicles
Writing
Official Storylines
Character Biographies
Official Novels
Scripts
Official Guides
Press Releases
Magazine Articles
Reports (Annual & Monthly)
Female - Child
Female - Teenager
Female - Adult
Male - Child
Robot - Female
Humorous Voices

Creature Sound Effects

Announcements
Audio Books
Presentations
Advertising
Hobbies:
Art, writing, dance, studying languages (Greek, Icelandic, Ancient Egyptian, Latin, Welsh, German), law, Egyptian history, magical arts, the paranormal, medicine, natural medicine, biology, physics, etc.
Likes: Family, down-to-earth people, open-minded people, Gods/Goddesses, Birds, the colour blue, food (Mexican, Greek, Chinese, Italian), law abiding people, justice, love, cars, guns, aircraft, being able to be herself.
Dislikes: Her sudden bouts of anger, girly things, the colour pink, slutty females, emos, fashionable goths/punks/skaters/bikers, chavs, hyperactive children with no sense of self control, make-up, revealing clothes, long nails, spending money on a rediculous level, shopping, parsnips, suede, Narutards, rabid fans who stalk and make up untrue rumors about her.
Religion: Wiccan/Pagan

Location: Derbyshire, United Kingdom.
Biography
Deborah 'Axel Alloy ' ****** lives in Derbyshire in the UK. Growing up as a Jehovah's Witness, she was taken out of school at the age of 7 due to health issues. (Stress related illness.) After that, she was home tutored and so her education was a lot more extensive that the regular child, being able to study subjects that a person would normally have to attend university, or pay to learn. (A lot of those subjects are listed in the 'Hobbies' section.) She started her employed life as a waitress at a restaurant in Derbyshire. After working there for some time, she decided to quit and another meaningless job later, she was hired by the animation company in January of 1988. Although she did not have any formal qualifications (As she never took any exams, or attended college), she was hired primarily as an artist. (Some say it was due to the fact that she new the person in charge of the dept. at the time.) Her roles were pretty simple. Create concept art, illustrations, etc, etc. Around 5 months after being hired, she was asked to voice act in one of the companies projects. It was only a small role, but she decided to give it a go anyway. It was after that, she was recognised as a talented voice actress and was used by the company in bigger and better roles. By 1998 she had been promoted to 'Art Department Co-ordinator', which meant that she was in charge of a team of artists, designers and writers, as well as making sure deadlines were met.
Sadly, in June 2007 she had to be taken to the hospital due to severe pain in her right arm. She could not return to work, as the problem rendered her incapable of working and was finally diagnosed in 2008 as having Cubital Tunnel Syndrome in both of her arms. She had her first nerve release operation in May 2008 on her left elbow and is now awaiting her second operation in her right elbow. Unfortunately, she had no choice but to resign from the company until further notice.