Gye
Gye was a cartoon concept created by the RDS animation company. It is about a comical schoolkid whose clumsiness and lack of vocabulary give him instant appeal as a character. Along with his friends, family and enemies, Gye is part of a unique and bizarre world of RDS origin. This world is usually seen from Gye's point of view, with each story offering a loose moral scenario (with added twists of course) in which he has to overcome true-to-life problems in his own unique fashion. Axel has gained permission from RDS to use her Gye artwork on her products.
Gye - 'Best Friends' Women's T-Shirt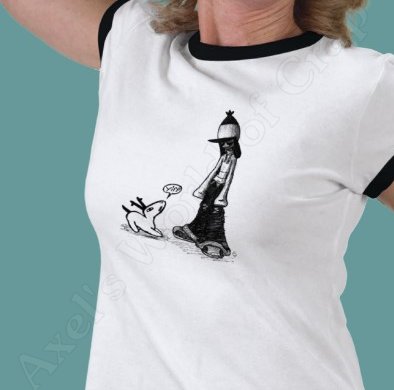 £ 25.00
Gye and his pet deerhound, Toby.
A vintage-inspired ringer t-shirt, made for women. 5.8 ounce combed, ring-spun 100% cotton. Super soft 1x1 baby rib knit. Contrasting 2" neck and sleeve binding. Coverstitched 2" bottom baby hem. Custom contoured fit that clings to the body.
'Axel's World of Crap' and all content, images, artwork, product designs and media are © Axel Alloy (Deborah Taylor) Any unauthorized use, sharing, reproduction or distribution of these materials by any means, electronic, mechanical, or otherwise is strictly prohibited. No portion of these materials may be reproduced in any manner whatsoever, without the express written consent of the publisher.